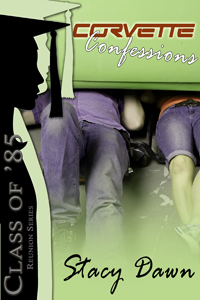 Thank you so much Liz for having me here today!
Welcome and tell us a little about yourself.
I'm Canadian and live in a little rural town on the shore of Lake Ontario.  Though I live in the country, on a winter day when the trees are bare, I can see the lake from our front porch.  I've been writing for quite a while now and the journey has definitely been an experience.
Sounds dreamy there, STACY DAWN. I envy you such a great place to live and write!
Tell everyone about your journey to publishing a novel.
It started with mounds of enthusiasm and a good idea—sort of crashed out when reality set in and I realized that there are A LOT of other writers out there, and enthusiasm and a good idea are just not enough to create a good novel.   If anything, that's the best advice I can give to new writers.  Understand that writing is a giant learning curve, but believe me, stick with it and the rewards are ENDLESS!  Study, learn, listen and especially READ.  You will only get better at your craft and stand a better chance of getting noticed because you've done your homework.
Absolutely right on this one SD. Perserverence and reading get us there.
What do you like the most and the least about writing?
They are actually the same thing LOL.  For me the beginning with all the ideas flowing out and that very last, final, revised edit before you submit are the most exciting.  In between is a tough journey for me because I want it to come out perfect the first time, and it just isn't—yet if I persist and just believe in the process, it slowly comes together in a far more complete and better way than I ever imagined.  I am very proud of all my stories because of the effort to get them just right.
This is soooooo true. Readers can get out of sorts if the writing isn't "just right."
What are three things you cannot do without?
Family, my computer….and chocolate (like you knew I was going to say that!)
All anybody has to say is the word "chocolate" and I can smell it. You are not alone in that necessity.
Give us a peek into your latest published work?
Corvette Confessions just released in September and is part of The Wild Rose Press's Class of '85 series.  OMG this was so fun to write because it just took me right back in time to my own high school days and those little nagging 'what if's':
Have you ever been in the right place at the wrong time?
Dumped at the senior spring dance, AJ, who'd always been more into softball and shop class than cheerleading and pep squad, escaped the crowd to mope in the Corvette on loan to the class for the semester. When Greg Roberts unexpectedly joined her, his attempts to cheer her worked—too well. She might have even confessed her love that night if Greg's longtime girlfriend hadn't come looking for him.
Twenty-five hard years later, forced to come to the reunion by her best friend, AJ escapes back to her favorite class, only to find the exact Corvette—a little worn and faded—sitting right where she'd left it. Fond memories turn into reality when Greg shows up at her driver's side window again—and déjà vu takes on a whole new meaning.
Available now at The Wild Rose Press: http://www.thewildrosepress.com/corvette-confessions-p-4210.html?zenid=a4210e9eb48bc2ea4a37127583a440bf
The Class of '85 series is really hot right now. You are fortunate to be a "charter author" there. I think that series has some staying power. The concept is so enticing!
What's next on the writing horizon for you?
I'm currently finishing up the fifth book in my Christmas series.  All the stories revolve around the hilariously eccentric town of Noelle, Alberta.  Christmas in Noelle….where love and laughter are always at the top of Santa's list!
You can find the first books in the series on my website at www.stacydawn.com
How fun!
Is there anything you want to tell readers?
Thank you!  Without your support and your love of romance, I'd have all these characters still running around in my head!  I truly appreciate every comment and everyone interested in my work.
You can read more about my releases and contests at www.stacydawn.com
Thanks so much Liz!
Thank you, STACY DAWN! Come back soon!
THANKS!