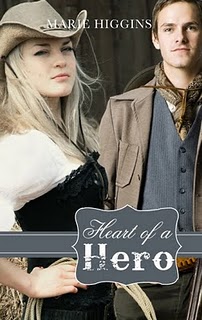 Welcome, Marie, and tell us a little about yourself.
I'm a Christian / sweet romance writer – with a twist. The reason I add this is because my stories are more than just a romance – they're an adventure. Most of my stories have a little mystery, a little humor, and lots of twists. I have two stories out right now; Winning Mr. Wrong, and Heart Of A Hero, both with the publisher Walnut Springs Press. I'm a mother of two daughters, one stepdaughter, three grandchildren – and I've been a wife for 25 years. (yikes!) I work full time for the state of Utah and work long ten hour days. My dream is to retire early and write for a living. (grins)
Tell everyone about your journey to publishing a novel.
Back when I was in junior high, I remember creating stories. I think the story-creation process actually started when I played Barbies with my younger sister. That's also where the humor came from. lol  When I was 18, I wrote my first skit for my the youth group in my church, and won an award for 'Funniest'. A few years later after I was married and had my first child, I wrote another skit for my church. This was done on a bigger scale, and I still won an award "Best Written".  When I wrote my third skit, I won "Funniest" again – and realized I was on to something enjoyable now. In all my skits, there was a little romance. So…that's when I wrote my first romance novel. Before the book was even finished, another story popped into my head. That's how it's been for nearly 15 years now. Finally this year I became brave enough to write my first Christian romance – and submit it. The publisher I submitted my story to was the one who contracted me in May of this year. In August, my first book was released – Winning Mr. Wrong, and in September my second book was released – Heart Of A Hero. We're already in the works for book number three to come out around the first of the year.
What do like the most and the least about writing?
What I love about writing is that it take me away… Everyone needs that in their life, and for me, my writing accomplishes that. I enjoy writing love stories and the growth between hero and heroine. I love finding twists to add to my story – and especially adding a little mystery to keep the reader turning pages.
The least of what I like about writing has to be my patience. I don't have any! lol  I've known many authors who have waited months to get their story read by a publisher – mine took three weeks. Then most authors wait nearly a year to get their books released – I waited a few months. I've been extremely lucky with this publisher. They must know how impatient I am. lol
What are three things you cannot do without?
My computer
Food
And a clean bathroom
Give us a peek into your latest published work?
Heart Of A Hero is a historical Christian romance. In Utah, 1875, there's a new hero in town…
When Summer Bennett returns to Richfield after a five-year stint at her aunt's finishing school, she discovers a lot has changed. Her father has suffered a crippling injury, and Summer is desperate to get the money to pay for surgery that could allow him to walk again. She hears of a reward offered for the capture of a cunning gang of bank robbers, and her years of etiquette training fall by the dusty roadside.
What Summer doesn't count on in her quest to capture the bandits is the competition from her family's longtime friend, Jesse Slade. Now a deputy marshal and local hero, Jesse keeps thwarting Summer's plans, just like he did when she wore pigtails. She would like nothing more than to use Jesse's head for a slingshot target, but soon Summer finds her aim shifting from his head to his heart. Problem is, Jesse is engaged to her sister Violet.
For seven years, little Summer Bennett was the burr under Jesse's saddle. Now he feels a different irritation as Summer is always on his mind—whether he wants her to be or not. But Summer's father expects him to marry Violet, and he won't let him down. So why does Jesse find himself encouraging Summer's attentions, and why do sparks fly every time they are together?
What's next on the writing horizon for you?
My publisher and I are now working on my next release – My Heart's Desire. This is a ghost story – but not the scary kind we hear about. My story has a LOT of mystery, a little humor and a good dose of romance. This story isn't a Christian romance, but a sweet romance.
When a beautiful woman claiming to be a ghost from 1912 appears in Nick Marshal's new office and begs for help in solving her murder, he's intrigued enough to consider her plea. A scandal that rocked Hollywood almost destroyed his law practice, so taking on a client who insists she's dead seems a good way to refresh his career. The more history he uncovers, the deeper his feelings are for the ghost. Abigail Carlisle believes Nick is her heart's true desire, but how can happily ever after happen when she's already dead?
Can Nick and Abbey solve the riddle of the gypsy curse and find a way to be together?  Or will decades of sinister forces intervene?
Is there anything you want to tell readers?
I would love to hear from you. You can email me at mariehiggins84302@yahoo.com 
Please visit my blog – http://mariehiggins84302.blogspot.com/ I have fun book trailers for my stories as well. Check my blog for contests I'll have from time to time!
My books are available at all major bookstores, Walmart and Costco. If you don't see my stories at your bookstore, please ask them to order it. Or… you can go directly through the distribution company – Brigham Distributing – http://brighamdistributing.com/search.php?orderby=position&orderway=desc&search_query=marie+higgins  Also you and find my books on www.Amazon.com
On a side note, this is just the beginning of my career. I have sooooo many stories to publish. I'm just getting started. J
Thanks Liz for this great interview! It's been fun!
Here is the excerpt –
The deputy marshal must be the one holding me. Summer Bennett let her body relax against the contours of his body. Normally, she wouldn't want to be protected and cared for by anyone, but at the moment she was reluctant to break the spell.
She dared a peek at his face. His deep blue eyes grabbed her attention. Kind eyes. Sunlight glinted off the golden tones of his light brown hair. He must have sensed her watching, for his square jaw changed shape and a soft smile bracketed his mouth.
He was very handsome. She couldn't have dreamed up a better vision of a hero, and dream it must be because things this good just didn't happen to her. Safety and security spread over her like a warm blanket and she melted against him, closing her eyes while his long fingers continued to stroke her cheek. It was the first time in her life she had allowed a man to touch her like that—a soft stroke, a gentle caress—and the first time she had ever really relaxed in a man's presence.
She sighed. Wonderful.
"How do you feel, Summer?"
The soft baritone voice rumbling in his chest seemed oddly familiar. Summer frowned and took a second peek at his hair and his mouth. He gave her a full smile. Awareness tugged at her memory and a large knot formed in the pit of her stomach. When recognition came, it struck like a thick piece of wood right between her eyes. She jerked, moving off the comfortable nest she had made of his chest.
"Jesse Slade?"
A crafty smile claimed his face. "The one and only, darlin'."
She widened her eyes. "Darlin'? I'm not now, nor will I ever be your darling, Jesse Slade." She couldn't believe her rotten luck. She fought to move from his grasp, batting his hands away. "Get your hands off me."
"Be still Summer, or—"
"Let me go," she demanded.
"Tarnation, Summer." His hands moved to her waist. "You're as slippery as a wet weasel."
"Quit touching me and put me down."
Although he tried to hold onto her, she managed to slither from the horse.
"Of all the confounded foolish female stunts." He pulled the horse to a halt and dismounted.
The moment her feet touched the ground, dizziness overtook her and she plopped down on her bottom. When Jesse reached for her, she slapped at his hands.
She glanced up at him from her undignified position and clenched her teeth. "You. Of all people, it had to be you." Holding onto a stirrup, she pulled herself to her feet and gazed into the heavens. "Why Lord? Why me?"
"There's no need to get your feathers ruffled." Jesse looked at the blood oozing from her shoulder wound. "Look what you've done. You're bleedin' again."
She glanced at her injury. It was worse than she thought, but she'd die before admitting it to him. She was not riding into town perched on Jesse's lap for the whole town to see.