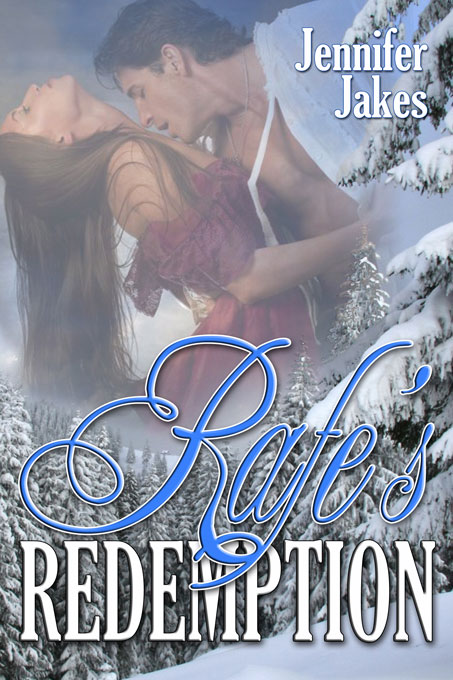 Jennifer Jakes is a fellow Wild Rose Press author and I'm thrilled she's visiting today! Make her feel at home!
Welcome, Jennifer, and tell us a little about yourself.
First, thanks so much for having me here, Liz!

I'm a wife and mother. We live in the Midwest on a 15 acre farm with horses, dogs and spoiled house cats.
 Tell everyone about your journey to publishing a novel.
I started writing about 4 years ago. I dabbled with some novellas, then pulled out some notes I'd carried

around for years and began working on my first full length, RAFE'S REDEMPTION. I found a couple of fantastic

critique partners (hi, Barb and Sara Ann) and we started a rotation of submission/critiquing. From April to December
we each wrote a novel and polished and polished………..;) Anyway, after a couple of rejections, I finally figured out
how to fix my show/tell problem. I then entered RAFE in the Gateway to the Best contest and won Grand Prize. That

gave me the confidence to enter the Golden Heart. When I finaled in that, I knew I was close to publication. I sold to
The Wild Rose Press in September!

 What do like the most and the least about writing?
The most: Things turn out the way I want them to!
The least: Trying to find quiet time to plot. (*see above mentioned children)
 What are three things you cannot do without?
Mexican food (Fajitas anyone?)
Sweet Tea with lemon
Sleep (I do not function well on less than 8 hours)
 Give us a peek into your latest published work.
He rode into town to buy supplies, not a woman.
For hunted recluse Rafe McBride, the raven-haired beauty on the auction block  is exactly what he doesn't need. A dependent woman will be another clue his vengeful stepbrother can use to find and kill him. But Rafe's conscience won't let him leave another innocent's virginity to the riff-raff bidding. He buys her, promising to return her to St. Louis untouched. He only prays the impending blizzard holds off before her sultry beauty breaks his willpower.
She wanted freedom, not a lover.
Whisked to the auction block by her devious, gambling cousin, and then sold into the arms of a gorgeous stranger, outspoken artist Maggie Monroe isn't about to go meekly. Especially when the rugged mountain man looks like sin and danger rolled into one. But a blizzard and temptation thrust them together, and Maggie yearns to explore her smoldering passion for Rafe.
But when the snow clears, will the danger and secrets that surround Rafe and Maggie tear them apart?

What's next on the writing horizon for you?
I've decided to take out those old novellas and polish them for publication. I'm also working on another full-length novel
set in 1898 Alaska during the Klondike Gold Rush.

Is there anything you want to tell readers?
Yes. I want to tell them thanks! Romance readers are the most loyal readers in the world.
Jennifer~
RAFE'S REDEMPTION
Coming From The Wild Rose Press
2010 Golden Heart Finalist
http://www.authorjenniferjakes.blogspot.com/
www.jenniferjakes.com