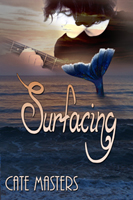 Welcome, Cate, and tell us a little about yourself.
Thanks so much for having me today, Liz!
Here's a brief bio:
Cate Masters has made beautiful central Pennsylvania her home for the past 20 years, but she'll always be a Jersey girl at heart. A lover of all great writing, she aspires to entertain and enthrall with her own stories. Most days, she can be found in her lair, concocting a magical brew of contemporary, historical, fantasy/paranormal stories with her cat Chairman Maiow and dog Lily as company. Look for her at www.catemasters.com, http://catemasters.blogspot.com, and in strange nooks and far-flung corners of the web.
Tell everyone about your journey to publishing a novel.
I set off on a dark and stormy night… no, seriously, it's been a long journey. For many years, I wrote for myself. At first I concentrated on short stories to hone my storytelling skills, and some of those were published in literary and web zines. A few years ago, a critique partner introduced me to epresses. Because I had a backlog of stories, I went on a submission blitz and met with more success than I could handle, I think – 17 acceptances in two years. Marketing efforts were a little crazy, to say the least. Things have slowed down a bit now, thankfully.
Seventeen acceptance in two years? Gloriosky!
What do you like the most and the least about writing?
When an idea sparks in my brain and comes together on the page, it's a high for me. I love getting in the flow, and time just slips away.
A negative review used to shake my writing foundation, but I've learned to shrug those off.
 What are three things you cannot do without?
Hot black tea, my hubby and time. Not necessarily in that order, lol.
Do you take sugar? With your tea, that is:)
Give us a peek into your latest published work?
Surfacing was so much fun to write. When another writer mentioned she hadn't seen a mermaid story in a while, I began researching them, and grew fascinated. When I found the Weeki Wachee Mermaid show in Florida, I thought it the perfect place for a real mermaid to surface.  AJ's one of my favorite kinds of heroes – flawed, but he finds himself when he finds love with a mermaid.
I entered the story into the 2009 Amazon Breakthrough Novel Award contest, and was thrilled it actually made it past the first round.
Here's the story blurb:
AJ Dillon is trouble. The former lead singer of an indie band has no home, no money and no future. His grandfather is the only relative willing to take another chance on him. AJ arrives in Weeki Wachee, Florida, with his guitar, a few clothes and a bad attitude. The only good thing about Weeki Wachee is the ocean — the one place AJ feels at home.
 Grandpa lines up a job for AJ at Weeki Wachee Springs, where beautiful women perform as mermaids. Grandpa says real mermaids exist, but AJ doesn't believe – until he meets Cassiopeia. She helps his passion for music resurfaces. But greedy Chaz finds out about her, and threatens to kill them if AJ doesn't go along with his plan to make a fortune with a real mermaid show. Can AJ save Cassie, even if it means losing her?
You can read an excerpt, reviews and view the trailer at http://www.catemasters.com/surfacing.html
Surfacing is available in ebook and print from Whiskey Creek Press http://www.whiskeycreekpress.com/store/index.php?main_page=product_info&products_id=824
 Sounds adorable!
What's next on the writing horizon for you?
I'm excited about the contemporary novel coming in June 2011 from Lyrical Press, and a mainstream novel from Whiskey Creek Press. Two shorter fantasies are subbed to pubs, and lots of WIPs vying for my attention, so I hope to have more following soon.
 Is there anything you want to tell readers?
I love to hear from you! Email me at cate.masters AT gmail.com with any comments.
Thanks again for having me as a guest, Liz!
Cate, you're welcome back any time…if you have the time between all those exciting projects! Congratulations, and keep us posted.