Hi, MARGARET! Thanks for joining me today. I'm excited you've got a story to tell about your journey to publication. What happened?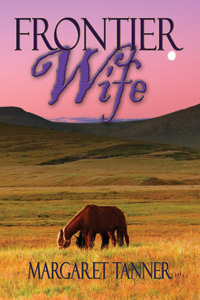 My latest release from The Wild Rose Press, Frontier Wife, has led a tortured existence. It has been briefly published before (twice) with the title of The English Rose, great title but very unlucky in my case. Each time, something happened with the publishers that was beyond my control – like going out of business.  This was my first published novel and I wanted to curl up in a corner and die, I really did, but I re-worked my story and sent it to TWRP and after some great editing work it is now out in the public arena once more and I couldn't be happier.  So, the moral of the story is – have faith in your work and never give up.
 This is so very true, Margaret. And I agree that the editors at TWRP are amazing!
Now, as a follow up to this, and reinforcing the adage of never giving up, I am posting part of a talk that I once gave on this topic.
So you want to get published.
You have written a fabulous novel, your mother loved it and your girlfriend said it was the best story she had ever read.
Now, who is the lucky publisher? You know everyone will want it. The dollar sign lights up in your eyes. Six figure advance, well maybe you would take five for starters. You are already debating what you will wear to your first book launch. Who will play the lead role when your masterpiece is made into a movie? Be honest, haven't we all thought like this? 
I have sent manuscripts to the large category romance publishers. The bigger the better I thought and received rejection letters, the good, the bad, and the downright ugly. I could paper the side wall of my house with them.  Along the way I entered and won, or was commended in, unpublished manuscript awards so I was reassured that I had some talent.
In desperation, after a few rejections, I once sent a manuscript off and pretended to be my husband. I wrote a little introductory note saying I was a male nightshift worker at an international airport, (which he was.  Of course, he couldn't write a romance novel to save his life).
A couple of months later the manuscript was returned from the junior editor saying she quite liked the storyline, I really did write like a woman, but they had read something similar only a few weeks previously. Devastating news.
A few weeks before Christmas, a friend of ours proposed a daring plan that would get me out of the 'slush' pile. He said. "Wrap the manuscript up in Christmas paper, put a fancy ribbon on it and send it off addressed to the senior editor. No junior editor would dare open the boss' Christmas present." What a master stroke I thought, the man was an absolute genius.
Well, a couple of months later, said present winged its way back to me, my pretty ribbons intact, sticky tape untouched by human hand. The note was brief and to the point. Thank you for the gift, but we don't accept presents, wishing you Merry Christmas etc. etc. The rejection was killing. I felt like the world had ended.
Then I got smart, and started researching publishers who published the kind of novels I wrote and whose business structures were sound.
It has taken me years and a lot of perseverance to get this far, but I am multi-published now and have two publishers, Whiskey Creek Press and The Wild Rose Press.
 Fascinating! What a great testament to perseverance. It works every time.
BIO: Margaret Tanner is an award winning multi-published Australian author. She is a member of the Romance Writers of Australia, the Melbourne Romance Writers Group (MRWG) and EPIC.
 She loves delving into the pages of history as she carries out research for her historical romance novels, and prides herself on being historically correct. No book is too old or tattered for her to trawl through, no museum too dusty, no cemetery too overgrown. Many of her novels have been inspired by true events, with one being written around the hardships and triumphs of her pioneering ancestors in frontier Australia.
FRONTIER WIFE
Only in the new world can a highborn young Englishwoman and a tough frontier man, ignite the passion that will fulfil their hopes and dreams in ways they never imagined possible.
Tommy Lindsay arrives in colonial Australia to claim the rundown farm she and her brothers have inherited.
Hidden behind her fragile English beauty, beats the heart of a courageous young woman. She will need all this strength to survive the unforgiving heat, and the dangers lurking around every corner.  Lost in the bush, capture by a feral mountain family, raging bushfires are nothing compared to the danger she faces if she gives her heart to Adam Munro.
Adam Munro, a rugged frontier man, has no room in his heart to love a woman.  All he ever wanted was a presentable wife who would provide him with heirs.   He didn't need passion in his life, not until he fell under the spell of the beautiful young Englishwoman living next door to him.
Margaret Tanner 
http://www.margarettanner.com/
FRONTIER WIFE published by The Wild Rose Press
http://www.thewildrosepress.com/frontier-wife-p-4099.html
Thanks for spending time with me today, Margaret. Your journey is inspiring. Congratulations on FRONTIER WIFE!