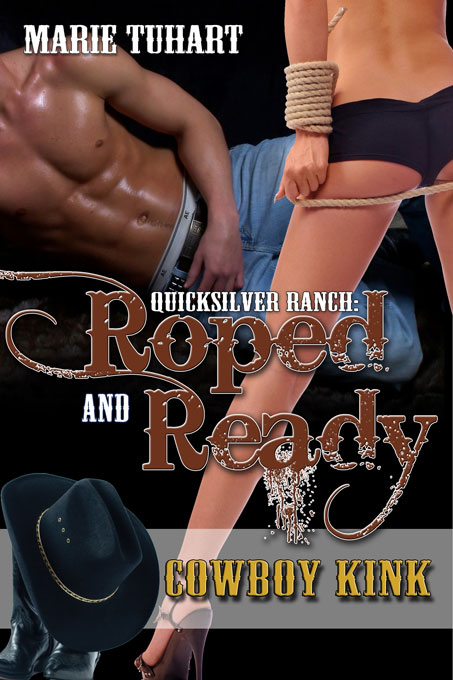 Welcome and tell us a little about yourself.
Thanks for having me today Liz.  I'm Marie Tuhart and I write contemporary erotic romance.  I'm still have a full time day job and well as writing as often as I can. 
Tell everyone about your journey to publishing a novel.
My journey has been fun as well as frustrating.  Before I sold my first book In Plain Sight to The Wild Rose Press in 2009, I'd finished 10 other manuscripts.  Since I've sold 2 more books to them, and I've completed another 3 full manuscripts.
What do like the most and the least about writing?
I like creating the characters and the story. The least editing.
What are three things you cannot do without?
My computer
Chocolate
Family
Give us a peek into your latest published work?
Quick Silver Ranch: Roped And Ready
Quick Silver Ranch is no ordinary dude ranch.
 After Becca Dalton finds her fiancé in bed with her boss, she ends the ill-fated engagement on the spot and quits her job. She heads to Quick Silver Ranch, looking to regroup before an interview for the job of her dreams–an executive position at a five-star hotel.
 Becca's best-laid plans are ruined when she discovers the exclusive ranch is for consenting couples who spend their days and nights exploring their most wicked sexual fantasies. For Becca to remain at the ranch and take advantage of all the arousing activities, she needs a partner.
Her sexy college lover and part owner of the ranch, Tyler Carson, is willing to break all the rules, partner up with Becca and have her roped and ready for a week of unimaginable pleasure.  But is a week enough to satisfy his desire for Becca?
Visit: http://thewildrosepress.com/wilderroses/index.php?main_page=product_info&cPath=182&products_id=811
For more information on Roped And Ready or to purchase the book.
What's next on the writing horizon for you?
Next up is Jared and Angie's book, Quick Silver Ranch: Saddle Up.  Jared and Angie are secondary characters out of Roped and Ready.  Here's a sneak peak:
Angie Davidson finds herself at loose ends after her best friend's wedding and in need of a vacation, so when sexy yet aloof co-owner of the Quick Silver Ranch, Jared Turner, insists she stay to explore their sexual attraction, she agrees. Though she loves being a submissive in the bedroom, Jared's distant air after lovemaking brings back bad memories. Can she show this strong sexy man he has nothing to fear from her, or will he abandon her like everyone else in her life has?
Sexy yet aloof Jared, co-owner of the Quick Silver Ranch is eager to explore Angie's submissive side with two weeks of toys and other naughty play. However, the last time he was this attracted to a woman—mentally and phyiscally—she wasn't able to put up with his Dominant streak. Can Angie see that her vacation with him can be the perfect way of life?
Is there anything you want to tell readers?
I really enjoy hearing from readers and I encourage them to go to my website
www.marietuhart.com and get on my mailing list.  I do special things for my readers all year round.
THANKS!
Thanks again for having me Liz.  It's been fun.
You've been a great guest, Marie! Come back soon!
hugs,
Liz