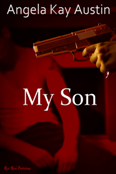 Angela Kay Austin; My Son
Sex, liquor, and men are not always a good thing.  Kelly Ann Mitchell discovers this the hard way.  One night of confusion, and misplaced trust result in a mistake she can't take back.  Forced to make a choice, she chooses the only thing she can live with which changes her life, and the lives of everyone around her forever. 
Charles Mitchell failed his family, his daughter, once.  He's determined not to do it again.  Jerry Harte must pay for what he's done, and Charles will be the one to make sure he does.
 
Alex King wants to follow the family tradition and marry his perfect wife on Christmas Eve. There's one little hitch—his bride dumps him at the altar. He wakes up in Vegas with a hangover, a ring on his finger, and in bed with Zoe Hillman, his best friend. She's overweight and plain, noting at all like his image of the perfect wife. So begins the shortest Vegas marriage in history.
Zoe loved Alex from the moment he walked through the law firm's doors. He can charm the panties off any woman, but he's never tried it with her. The chance to grab for the gold ring is within her reach until everything blows up in her face. Now, five years later she returns to Kansas City with triplets in tow and a brand new look. Catering Alex' next wedding should prove interesting.
Amber Leigh; Blackest Heart
America's Sweetheart, Stella Ridge has been away from Wayback for fifteen years paving her way to the top of the acting business. When a car accident leaves her physically and emotionally scarred, the only place she wants to go is home to Texas and her family's ranch. There she uncovers a buried tragedy and finds an intriguing spark and the solace she craves in the last place she expects: the arms of Wayback's silent cowboy, Judd Black.
Neil MacKenzie's well ordered life turns to chaos when Mora Campbell shows up claiming he's her fiancé from 1602 Scotland. Her avowal that she was chased to the future by clan chieftain, Red MacDonald, is utter nonsense, and Neil must convince her that she is just addled from a blow to her head–or so he believes until the MacDonald himself shows up wanting blood. Mora knows the Neil of the future is truly her beloved Niall who disappeared from the past. Although her kinsmen believe he's dead, and she is now destined to marry Niall's brother, she's convinced that if she and Neil return to the past, all will be right.
The only problem is how to get back to 1602 before it's too late. The balance of the present and future are in peril if she marries another, and the Neil of the present will cease to exist. An ancient relic and a few good friends in the future help pave the way back to the past, but will Mora and Neil be too late to save a love that began centuries before?
Blurb
Audra Wakely's father has been seized by Spanish authorities and imprisoned for sympathizing with Cuban rebels. Raising the money to bribe officials if necessary, she sets off for Cuba to rescue her father. She doesn't bargain on the interference of any U.S. officials—that is until she meets Rollins McBride.
Lt. Rollins McBride of the newly designated U.S. Naval Intelligence service is assigned to track Audra on her journey. He's to arrest Greg Wakely, a U.S. citizen, for treason and gun smuggling. His mission and his heart are taken by surprise by the feisty beauty who sets a stubborn path toward finding her father and proving he isn't a traitor—no matter what or who gets in her way.
Sizzle, spice, and intrigue heats up the Spanish American War in MESSAGE TO LOVE.
Excerpt
"It was a dream, just a very bad dream."
She stepped back out of his hold. Clammy spots of moist heat lingered on her arms where his hands had been.
"I'm all right now." Audra reached for the door and noticed the sickly sweet odor of liquor on his breath. "You can leave now. I want to go back to bed." She pulled open the door and gestured into the hall.
"Sorry, but this time you're going, too." Rollins strode over to the dresser and pulled out a drawer. "Better pack. We have just under two hours."
"I'm not in the mood for comedy, Rollins," she sighed. "I'm really very, very tired. I've got to get some rest. Now—"
"Let me make myself clear." He sounded gruff. "I said we're leaving, and unless you want to get on a ship bound for Santiago with your shirttails hanging out, better change and get ready." He made to leave the room. "I hope you have a shawl or something. It's gotten cooler out, and we have half an hour in a wagon to get to port." Then he vanished into his own room next door, leaving Audra gape-mouthed in the hallway.
"Who does he think he is?" She growled as she stamped her foot against the cold hard floor. "Infuriating! He is absolutely infuriating!" Audra heaved the door shut with gusto. "These are not my shirttails, either!"
Amazon buy link (print and digital)
http://www.amazon.com/s/ref=nb_sb_noss?url=search-alias%3Dstripbooks&field-keywords=message+to+love+liz+arnold
The Wild Rose Press buy link (print and digital)
http://thewildrosepress.com/index.php?main_page=index&manufacturers_id=495&zenid=5211e46f5b21103c2a01fe5c9b8df3ee